Get the FACTS on Issues and My Campaign
WA State Income Tax: Lying? You Decide.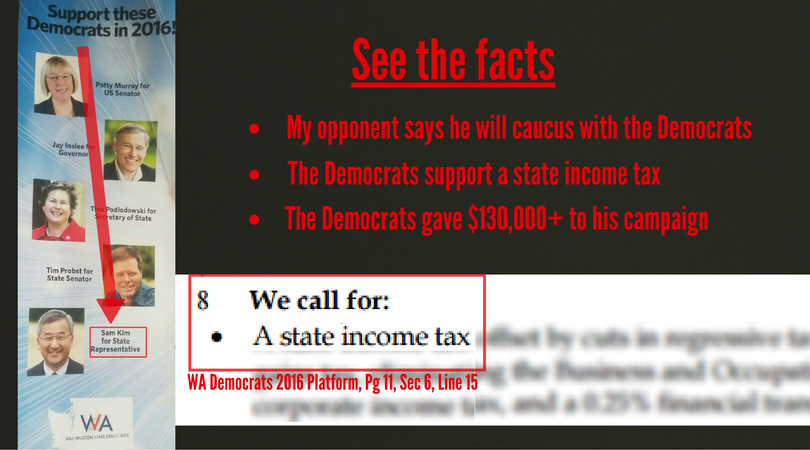 My opponent has said that I'm lying about his position on a potential new WA State Income Tax. Let me be very clear about what my campaign has said, "Pro-state income tax groups are spending thousands attacking Vicki Kraft and supporting Sam Kim. If they win they have promised to pass a state income tax."
Now the question is, who are "they"? The WA State Democrat Party states in their 2016 Party Platform on Page 11, Section 6, Line 15 – (We call for:) "A state income tax…"
The WA State Democrat Party paid for a flyer which included my opponent's name and picture – but they did not say he is an "Independent Democrat" – they state he is a "Democrat" along with a slate of other Democrat candidates. See the flyer below.


(Front)                                (Back)
My opponent says

"Yes, I will caucus with the Democrats" in this audio clip from the Brush Prairie Neighborhood Association Candidate Forum on 10-20-16.
The WA State Democratic Central Committee paid for and sent direct mailers to voters on behalf of my opponent. See the bottom of this flyer below.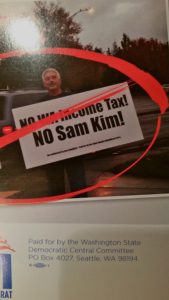 ---
So will my opponent really say "No" to the Democrat State Party and Leaders who are working for a State Income Tax? 
In addition to the facts above, my opponent has also clearly stated in candidate forums and interviews:
In a CVTV Side-by-Side Interview dated 9-23-16 at CVTV.org, my opponent very cleary states he is in support of the Gas Tax increase last year – the largest increase in gas taxes in our state's history.
Also in that same CVTV Interview dated 9-23-16 at CVTV.org, my opponent said he's open to increasing impact fees which increases housing prices. This hurts families and and first-time home buyers. Especially with the housing crisis situation in Clark County, we do not need an increase in these fees.
My opponent has also said at the Mayor's Candidate Forum in Battle Ground on 10-11-16, also available at CVTV.org,  that he is in favor of increasing taxes on alcohol purchases. Following at the Neighborhood Association Council of Clark County Candidate Forum on 10-13-16, my opponent stated he is in favor of increasing taxes on alcohol, cigarettes and marijuana (which he called "sin taxes").
---
So you decide, will my opponent go against the wishes of the WA Democrat Party and Leaders in Olympia—those funding and promoting his campaign?
When it comes time for the legislature to vote on a WA State Income Tax…given their party position, and his position on raising the taxes and fees noted above…what do you think my opponent will do?
I strongly oppose a WA State Income Tax! I will fight against it and stand up for you in Olympia!
---
Vicki Kraft is an Experienced Champion for K-12 Schools
"A quality education is vital to our children's future, job opportunities, and achievement– whether they choose to go to college or learn a trade." —Vicki Kraft
During the past 10 years while working as a Sr. Account Executive with Dell, I worked on a daily basis, in-person, with Washington K-12 School Districts across the state – including Evergreen School District, Vancouver School District, and Battle Ground School District to Kennewick School District, Moses Lake School District, Bellevue School District, and over 50 more. Ultimately I was responsible for all of Dell's business with the 295) K-12 school districts across Washington.
I've delievered resources and innovation needed to equip teachers and improve student achievement. I truly understand how important this is for our kids. Prior, I worked in instructional technology, working with teachers to help them develop and deliver curriculum content for their students in the classroom.
K-12 Education will be the top priority and have the spotlight in the 2017 Legislative Session, due to the McCleary Decision from the WA Supreme Court and the need to put a plan together to fully fund K-12 basic education by 2018. I have the WA K-12 insight and experience necessary to deliver practical solutions needed for our students and teachers.
Learn more about my priorities for K-12 Education by clicking on the Issues Tab above – and Education.
---
REAL Common Sense Transporation Solutions
for Clark County and Washington
I've heard from many of you while doorkocking and talking with you that traffic congestion on your daily commute is a real problem. I hear you, I used to have to commute to Portland on a daily basis – and I think traffic has gotten worse since then in the last four years.
The only real way to reduce traffic congestion and improve frieght mobility on the I-5 corridor is by adding an additional bridge to expand capacity. I would like to see a third bridge on the west side of Clark County. That would easily open up another path for communters and frieght transportation to get back and forth across the Columbia River.
My opponent said that he is in favor of replacing the I-5 bridge and making it LIGHT RAIL capable, during The Columbian Editorial Board Interview on June 14, 2016. Note that the majority of Clark County voters have voted "No" to light rail several times – one of these votes is noted in The Columbian article on November 6, 2012 titled, "Voters Soundly Reject C-Tran Measure". So why at this point would we try to "expand capacity" by replacing the existing I-5 bridge? In the end we would only end up with two bridges again. And if the voters are not asking for it, why does it need to be light rail capable? Can you really imagine as the next step replacing the I-5 bridge? During the construction process, we'd go down to one to 1.5 bridges to use going across the river at best. Can you imagine what that commute would be like? And for how long would it be that way? Likely too long. My opponents' solution to transportaion of replacing the I-5 bridge as a next step does not sound like the best solution for our citizens, but rather for special interest groups.
Ultimately the transportation solutions we implement need to be those the voters want and projects that have reasonable costs, timelines, and will actually accomplish the objective needed – reduce traffic congestion. This sounds like real common sense to me.
Learn more about my priorities for Transportation by clicking on the Issues Tab above – and Transportation.