Joe Biden came to the area yesterday to promote the I-5 Bridge Replacement (IBR) project and the $1.2 trillion Federal Infrastructure Investment and Jobs Act (IIJA) taxpayer money that will be used to fund this project. Currently this IBR project is estimated to cost $5 Billion dollars. The key question is – what will the people get for all this money?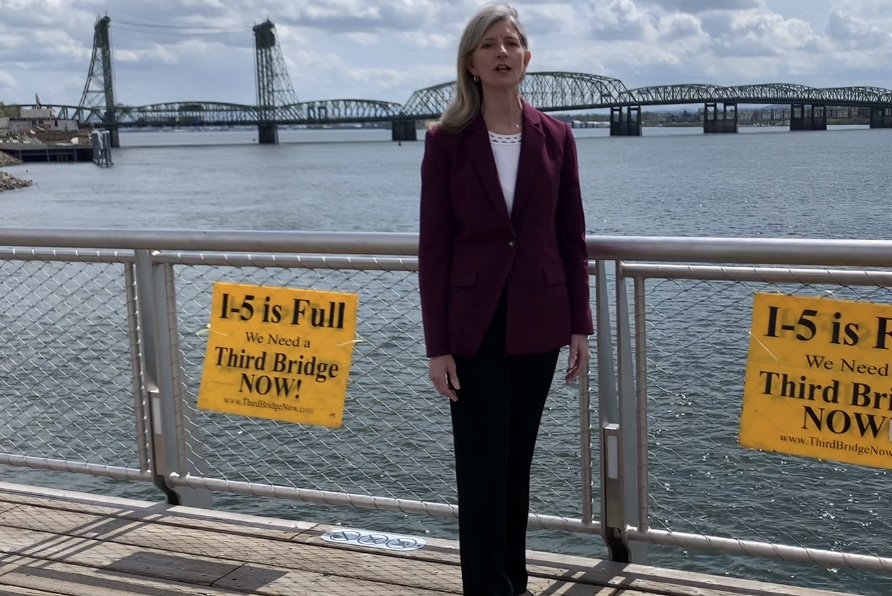 Per the Executive Steering Group (ESG) meeting and the Bi-State Bridge Committee meeting that took place yesterday, there are three things that people will get. I am in strong opposition to these three items noted below, and the direction the current I-5 Bridge Replacement project is moving to make them a reality.
1.) This project will bring light rail into Vancouver and Clark County. This means a likelihood of even more crime coming into Southwest Washington at a time when crimes have already been on the rise.
2.) This project will bring tolls to commuters. Double tolls due to the Oregon Regional Mobility Pricing legislation passed in 2017. These amounts will be on top of any taxes commuters have to pay to Oregon just for working in Oregon.
3.) Likely there will be no significant reduction in commute times. Of the 12 project options proposed and discussed this morning, 8 of them or 75% will not offer substantial time saving for those commuting to and from work, or for freight drivers trying to deliver goods in a timely and cost-effective fashion.
The real question becomes – if there's no significant benefit to reducing congestion and commute times, why would elected officials support this project and have the highest official in the nation come out to promote it?
Commissioner JoAnn Hardesty of Portland commented yesterday during the ESG meeting, "Behavior modification should be part of the conversation". Really? A mayor on our side of the river involved with this project has effectively said the same thing. Why should elected officials be trying to get you to "modify your behavior"? They want you to do what they want you to do, instead of you exercising your freedom. Why would any elected official think that's their job? To force you do something you don't want to do?
In this case the tolls and higher prices are intended to get you out of your vehicles and riding their light rail instead of driving your car – even if it's less convenient or feasible for you. By the way, these two items – tolls and light rail – are the very same issues that effectively killed the last I-5 bridge replacement project, more commonly known as the CRC or Columbia River Crossing.
One would think elected officials would learn their lesson. Their duty is to listen to the people, serve them, and deliver what they want – not make the people do what the elected officials want them to do.
That's why I continue to work for a Third Bridge which will bring more throughput lanes to commuters and freight in the Southwest Washington region to actually help people get to and from their jobs or destination in their own vehicle faster, more conveniently, and with less traffic congestion.
Visit my website VickiKraft.com for more details on a real, common sense transportation solution for Southwest Washington – a 3rd Bridge now!